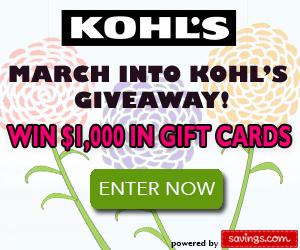 Win A Kohl's $50 Gift Card!  20 Winners!
Spring is almost here!  To celebrate, Savings.com is giving away $1,000 worth of gift cards to Kohl's!
20 winners will receive a $50 gift card to Kohl's!
What fun it would be to kick start your Spring wardrobe with a $50 gift card to Kohl's!
Giveaway Details:
Thursday, March 5th at 12:00 AM ET to Sunday, March 8th at 11:59 PM ET.
Twenty (20) winners will receive a $50.00 gift card to Kohl's.
Users can enter the giveaway by heading —->here and submitting their email address on the form at the top of the page.
The winners will be chosen via a lottery drawing and notified on Tuesday (3/10) via the email address they used to enter.
See complete Official Rules for entry instructions, full prize descriptions, restrictions and other important details.
Also, be sure to check out Kohl's for Spring finds during their Gold Star Clearance!  It's still Winter but, Spring is on the way and you want to be ready!  They have some great options and sales right now for your Spring wardrobe!  Plus if you win one of the gift cards you can get it to stretch even further!